Dream of a Life Without Lenses? Explore LASIK.
If you wear glasses or contacts to see clearly, you probably think that you're destined to wear them forever. But you may have the opportunity to live a lens-free life after LASIK vision correction at Bonner Eye Clinic. The exciting news is that 96% of Dr. Mariano's LASIK patients achieve 20/20 vision – or better.* That means the frustrations and expenses of glasses and contacts are gone.
Is LASIK right for you?
Take our free LASIK Self-Evaluation.
The Secret of Dr. Mariano's LASIK Success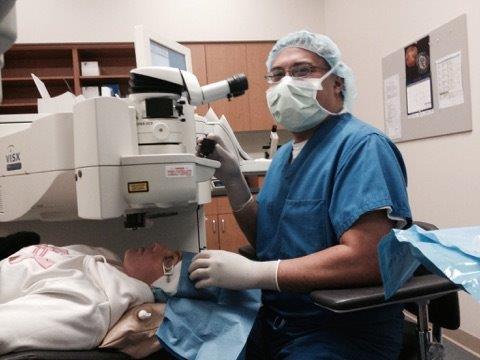 While Dr. Mariano has performed thousands of LASIK procedures, not all were done using the same technologies. Since he began offering this life-changing vision correction method, Dr. Mariano has been on an ongoing quest to thoroughly research the latest advances in technology. When he finds methods that are producing outstanding results, he invests in the technology for his patients. Today, Dr. Mariano offers blade-free, custom LASIK in Grand Rapids with these technologies:
Steps of LASIK
The basic LASIK process involves three steps:
Anesthetic eye drops are applied to numb your eyes.
A flap is made on your cornea.
A laser is used to reshape your cornea so light entering your eyes will land onto your retina for clear vision.
You remain awake during LASIK. Amazingly, the procedure takes only a few minutes.
How Our Technologies Improve LASIK Results
iDESIGN® Refractive Studio
At Bonner Eye Clinic, Dr. Mariano customizes LASIK procedures for each unique individual using the iDESIGN Refractive Studio. This is the first and only topography-integrated, wavefront-guided LASIK technology. Prior to your procedure, your eye is measured on the surface (corneal topography) as well as in the optical pathway inside your eye (wavefront analysis) in order to create a high-definition 3D scan. In fact, over 1,200 data points are collected of your cornea shape and pupil size to better understand how light moves through your eyes. This 3-second process gives Dr. Mariano incredibly precise information to reshape your cornea to achieve the very best vision results.
IntraLase Femtosecond Laser
The corneal flap is necessary to allow access to the underlying corneal tissue. Rather than using a manual blade for this stage, Dr. Mariano has invested in the IntraLase laser to perform this step blade-free. The laser energy produces tiny bubbles within the top layers of the cornea to create the flap. This creates a flap that is more stable, precise and reliable. Once created, the flap is folded over so the excimer laser can complete the LASIK process.
STAR S4 IR® Excimer Laser
This is the corneal reshaping step in LASIK. Our excimer laser is equipped with a 3D eye tracker to keep your treatment right on target. This laser treatment is based on the customized plan created by the iDESIGN system. Only very miniscule amounts of corneal tissue need to be removed using our excimer laser to achieve vision clarity because the process has been so precisely planned out in advance.
After LASIK
Many patients experience improved vision immediately after LASIK. However, we do ask that you have someone drive you home after the procedure so you can rest your eyes for the remainder of the day. By the next morning, most of our patients are able to return to normal activities and will be able to drive to their post-operative appointment.
We'd Love to Tell You More About LASIK
Even with our advanced technologies, LASIK is not considered a miracle procedure for absolutely anyone who wears glasses. Your own eye health and vision characteristics may not be suitable for LASIK. The only way to find out for sure is by scheduling a free LASIK screening at Bonner Eye Clinic with one of our LASIK counselors. If the screening shows you might be a good candidate, Dr. Mariano will perform a full consultation to give the final approval for the procedure or make a recommendation for an alternative vision correction procedure.
We invite you to schedule a free LASIK screening today to confirm your candidacy, get your questions answered and show you why so many people trust our team to enhance their vision.
*20/20 vision results are not guaranteed.